What is Dry Eye?
Dry eye is well on its way to becoming an everyday condition. No less than 17 % of the total population are affected, and the trend is rising. Sufferers report a variety of symptoms and complaints, including itchy, burning or tired eyes, to name just the most common ones. As it is a multifactorial disorder, the key task for ophthalmologists and optometrists is to set the patient on the right course from the very moment they record their patient's history and also to use the equipment that is most suitable for proper diagnosis and treatment.
Noninvasive techniques beneficial when diagnosing dry eye
After recording the patient's history the foremost task is to decide on an examination method. There are a number of possibilities, with major advantages favouring noninvasive or minimally invasive techniques. One advantage is that they allow ocular surface data to be gathered without inducing any significant secretion from irritation. Results obtained using this method reflect the unperturbed status of the ocular surface. If invasive tests become necessary in the course of an examination, they should always follow the noninvasive tests.
That's how OCULUS supports dry eye specialists
OCULUS has a number of methods and options to offer when it comes to dry eye screening, follow-up and patient management: The Topographers Keratograph® 5M, Keratograph® 4 and Easygraph, the ideal solution to practices struggling with limited space.
Keratograph® 5M
The OCULUS Keratograph® 5M is an advanced corneal topographer with a built-in real keratometer and a colour camera optimized for external imaging.
Keratograph® 4
Gold standard corneal topography – that's what the Keratograph® 4 is all about. It ensures reliability when it comes to taking measurements, providing consultation and fitting contact lenses.
Easygraph
Mounting directly on the slit lamp, this space-saving corneal topographer incorporates assessment of the cornea directly into the examination process.
Detecting dry eye reliably
There is no single test to reliably diagnose dry eye, as there are always several factors involved, and sufferers may report a variety of symptoms. The key to proper analysis of the various factors involved in eye wetting disorders and determination of their causes lies in a broad-based diagnostic approach. The necessity of this is already evident in view of the variety of risk factors that may trigger dry eye symptoms.
Risk factors for dry eye:
Meibomian gland dysfunction
Rosacea
Diabetes mellitus
Vitamin A deficiency
Glaucoma drug therapy
Corneal surgery
Environmental factors such as:

smoke, ozone, dry air, air conditioning, VDU work etc.

Allergies
The OCULUS Keratograph® 5M with its easy-to-integrate Crystal TEAR Report supports eye care practitioners in this broad-based diagnostic approach.
Read on to find out what makes this combination so special.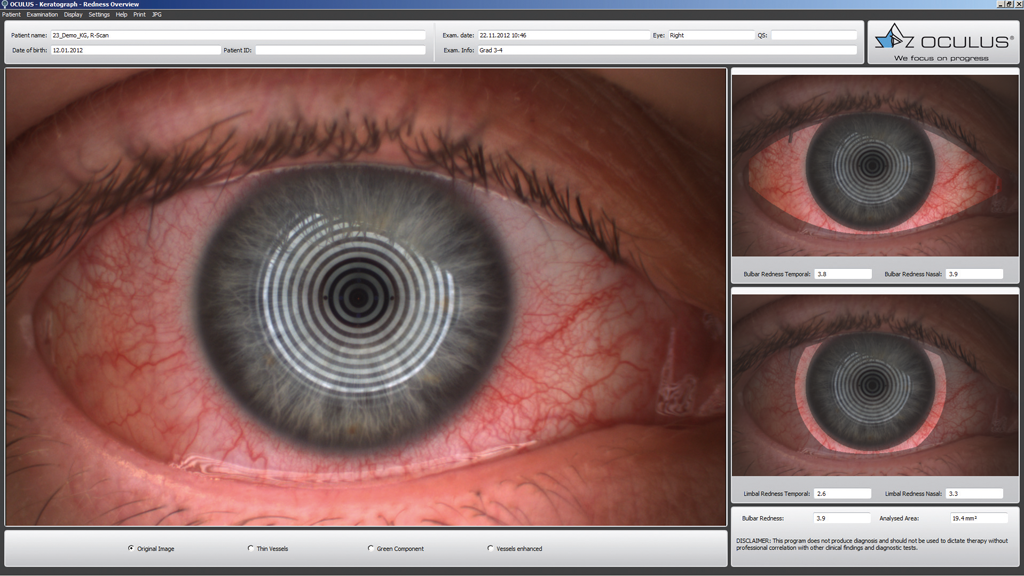 The new Crystal TEAR Report is an optional software to the OCULUS Keratograph® 5M. In addition to assisting you with quickly and reliably determining the causes of dry eye it provides further important benefits for your daily practice:
Efficient screening: for quickly and accurately detecting deviations in tear film quantity and quality.
Well-founded measurement results: for proper assessment based on a proven sequence of criteria and predetermined procedures.
Regular follow-up: for monitoring treatment efficacy and documenting the patient's progress
Anamnesis and screening for dry eye in one
Performing an accurate examination is only one of several essential steps in analysing and treating dry eye. It all starts with a professional interview of the presenting patient. Questionnaires for the patients to fill in themselves or to go through with the examiner are ideal for this purpose.
Today, there are international standards for this such as the DEQ OSDI (dry eye questionnaire Ocular Surface Disease Index) or the DEQ McMonnies. They help the eye care practitioner to gather and organize valuable information and precisely determine the degree of dry eye.
One major advantage of the Crystal TEAR Report is that it includes the most common international questionnaires – making them all available to you at the touch of a button.
Targeted treatment for dry eye
Clear-cut routines are needed more than ever today in order to provide effective and efficient treatment to the many patients seeking relief. This calls for well-organized processes from the initial standard screening to the follow-up. They are what allows you to focus on your primary task: treating your patients successfully. The Crystal TEAR Report also offers you optimal support in this regard, guiding you step by step all the way from the initial examination to the follow-up.
Standard screening for a quick overview in just 5 minutes
Individual screening – impressive and comprehensive
Follow-up – targeted success monitoring
Dry Eye Workup
A good dry eye practice is all about a good workflow. In this presentation, Dr. Crystal Brimer explains her workflow, going through her dry eye workup process step by step including how she talks to her patients about starting treatment and even discusses a little about return on investment. If you are looking to start a dry eye practice, this is for you.
OCULUS: innovative by tradition
Since 1895 OCULUS has repeatedly presented major innovations in the field of ocular diagnostics. Therefore it comes as no surprise that OCULUS is also offering trend setting solutions for the diagnosis and treatment of dry eye.
With service centers located in Washington and Florida, OCULUS, Inc. provides reliable, fast and customer-friendly service from 8 am to 8 pm EST.
The tear film
An intact tear film ensures that our eyes do not dry out. It consists of several layers, with an oily lipid layer protecting the watery layer beneath it from evaporating. The watery layer contains oxygen and supplies the cornea with essential nutrients. Beneath this, there is a mucous mucin layer by which the tear film adheres to the cornea. The tear film also protects the eye against foreign bodies and bacteria.
The meibomian glands
The meibomian glands are located along the inner edge of the eyelids. They produce the lipids of the oily layer. This is distributed across the ocular surface with every blink of the eye, protecting the tear film from evaporating too quickly. If the functions or structure of the tear film are impaired, this leads to sensations of dryness.
Focus on Your Dry Eye
Download the free poster and use it to explain the examinations and treatment to your patients with easy-to-grasp pictures.
DOWNLOAD PDF (1.78MB)
Got dry eyes?
You are a patient and experience irritated, gritty, scratchy, or burning eyes, excess watering, and blurred vision?
Click here and find a doctor who uses the sophisticated technology from Germany, the Keratograph® 5M, to diagnose dry eye syndrome (DES).
Questions frequently asked by dry eye sufferers
Contact us!
Request a quote or contact us if you need further information.
Request a quoteContact requestHotline
Questions?
Get in touch with us.
Tel. +1 888 284-8004